DC1000 Controller
The DC1000 family of microprocessor-based controllers combines a high degree of functionality and reliability at a very low price in four different formats: 1/16 DIN, 1/8 DIN, 3/16 DIN, 1/4 DIN. These controllers are ideal for controlling temperature in a variety of applications, including:
The DC1000 family provides basic control requirements, plus advanced features such as motor position control, phase angle power control and set point programming.

UDC3500 Controller

Built on a legacy of performance and reliability, Honeywell's next-generation controller, the UDC 3500, delivers unmatched power, flexibility and perfermance in the popular 1/4 DIN size. Available as a single loop or dual loop controller, the waterproof NEMA 4X/IP66 faceplate allows it to be used in wash-down applications. Simple intuitive software makes controller configuration a snap. A wireless infrared communications port enables controller setup from a Pocket-PC or computer. Ethernet communications allows easy connectin to plant networks. Application flexibility is assured with up to five analog inputs, math and logic functions and Accutune III tuning with fuzzy logic overshoot suppressions. The UDC 3500 controller is easy to install, easy to configure, easy to operate and easy to use.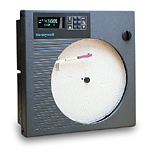 DR4300 10" Circular Chart Recorder
The DR4300 10" circular chart recorder is an economical, all-purpose microprocessor-based recorder that can handle a variety of process parameters such as temperature (T/C & RTD) and linear signals (mA, mV, Volts) from devices like temperature, humidity, pressure or flow transmitters. The DR4300 has two models (with or without a digital display) and a variety of options, allowing you to select the recorder that best meets your needs.
Typical applications include environmental monitoring, food and beverage, textile production, heat-treating, pharmaceutical production, monitoring of cold storage areas, flow monitoring and totalization.